Ubica is an executive coaching and performance consulting firm that specializes in maximizing individual effectiveness, optimizing team cohesion, and elevating cultures.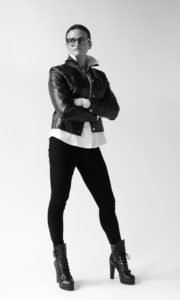 Ubica's approach is based on a deep understanding of how to rewire habits and operating models. Clients become more sophisticated leaders, managers, communicators, negotiators, and decision makers.
The coaching technique is deeply reflective and analytic, yet practical. Clients move beyond inspiration and into the hard work that goes into professional development. The conversations will push clients and engage them in painstakingly rigorous discussions.
Request Alicia Bassuk for coaching, consulting, speaking engagement and panel requests at info@ubicastrategy.com.
Alicia Bassuk, ace executive coach, counseled me on how to manage the project and supplied lessons I will rely on for a long time to come. -Jodi Kantor, New York Times Reporter & Author of 'The Obamas'
Since working with Alicia, my interactions with clients and partners have dramatically improved. She has shown me how to "grow into my shoulders", refining my communication and leadership styles and increasing my presence. I am more confident and sophisticated in conversations with senior executives and have learned how to use story-telling and insightful questions to improve interactions and relationships. Never before have I experienced personal growth at such an accelerated rate.  –Tony Gambell, Partner, McKinsey and Company
Alicia has an uncanny ability to give advice that is both highly strategic and shockingly practical. She takes complex ideas down to their nuances, but then resurfaces quickly with a plan for moving you forward that feels wise, smart, and also highly doable. The result of the experience is that every interaction solves a problem-not always the problem in its entirety, as she understands that professional growth is a process, but just the right aspect of the problem for that moment in time. When I see an email from Alicia in my inbox, my shoulders actually go down. -Suzanne Muchin, Co-Founder & CEO, ROI Ventures
Alicia is uniquely effective at pushing even seasoned executives out of their comfort zones towards higher level performance as individuals and as part of a more highly functioning executive team. -David Nelms, CEO, Discover Financial Services
Alicia has helped me transform in various leadership roles throughout the years.  Her insight and guidance has been critical towards my rapid development in my new role as a founder and CEO.  Alicia combines expertise in organizational change and personal effectiveness to address almost any issue I bring to her and at the same time pushes me outside my comfort zone, challenges me be a better leader. –Suzanne Yoon, Founder & CEO, Kinzie Capital Management
Alicia worked with me on organizational techniques and some fundamentals that definitely helped me in my leadership capacities. Her probing and thoughtful questioning required me to dig deep  which gave me the confidence to take my business to the next step. – Gigi Pritzker, Founder & CEO, Madison Wells Media
Alicia's keen eye for opportunity and breadth of experience has been tremendously helpful as I navigate Backroads in a fast moving environment. She is always able to uncover dimensions of a problem or opportunity that stimulate worthwhile thought. Alicia's insight is simply invaluable. -Tom Hale, Founder & CEO, Backroads
With Alicia's support I am a more effective and humble leader. Alicia can take someone who is very self aware to a whole new level. When she works with my direct reports it makes them feel valued and it has proven to be a great retention tool. She sets a tone in our culture for individuals to be open, innovate, take risks, value diversity, and reach beyond their natural set of aptitudes to be a more whole contributor to the team. -Katrina Markoff, Founder & CEO, Vosges Haut-Chocolat
Alicia is very passionate about her clients' success and takes a great interest in multiple aspects of their growth. Her feedback is direct, timely, and most importantly, practical. -John Holmes, Group Vice President, Aviation Supply Chain, AAR
Alicia is a trusted confidante for me who has been at my side as I launched my own company and went from journalist to entrepreneur now with a staff of 15 people and two major media productions underway. This kind of work requires a great capacity for risk and fearlessness. Having Alicia to turn to at key decision making members has been crucial for me. If you want to feel confident about yourself and your company and manifest the essential role of leadership, Alicia is a North Star –a compass to achieve a dream of success. -Maria Hinojosa, Award Winning Journalist and Founder, Founder & CEO, The Futuro Media Group
Alicia was a very important part of helping me thrive in an environment outside my comfort zone. She demonstrated an ongoing knack for useful and actionable advice.  I quote her quite frequently to colleagues. -Neal Foard, Chief Creative Officer, TiVO
Receiving feedback from Alicia is a gift. Her feedback is fact-based, direct, insightful, and actionable. She doesn't sugar coat feedback yet there is a kindness and support in the approach that is both inspiring and empowering. I seek out her insights regularly. –Kelly McNamara-Corley, General Counsel, Discover Financial Services
Alicia brings into her coaching relationship a tremendous amount of energy and candor. I don't need sugarcoating; I want straight talk delivered efficiently and honestly. Alicia is at her best in analyzing situations at work, helping me understand how I can take full responsibility for outcomes and focused on how I can be a solution. I have benefitted from my time with her and have seen my senior executive derive the same improvement. -Jason Hsu, Co-Founder & Vice Chairman, Research Affiliates
I have relied on Alicia for professional mentorship, support, and guidance for years. From brainstorming new program ideas to no-holds-barred reality checks and sage career advice, Alicia has been a great professional resource for me. –Evelyn Diaz, Commissioner, City of Chicago Department of Family and Support Services
I have never been a fan of executive coaching, but I'm a convert after working with Alicia.  She has keen insight into human motivation and psyche based on experience and analysis, and the ability to quickly translate that insight into action.  I saw meaningful improvement after her involvement, and continue to work with her to get the best out of my executive team.  – Boris Elisman, Chairman and CEO, ACCO Brands Corporation
Alicia is the sherpa for high-powered CEOs everywhere, and she's also completely down to earth, funny, and nimble as your day is long. She has both hard business knowledge and human wisdom from some deep mysterious place that's probably mystic and possibly wicca but we don't talk about that. Her work toggles back and forth between your heart and your mind in a seamless dance that gets you growing on all cylinders. -Rachel Bellow, Co-Founder, Mind+Matter Studio
I call Alicia my business shrink but that actually understates the value she has created for me. She is my shrink, muse, connector, and encourager. She can – with intelligence, insight and clarity  — help you think through and devise a strategy (and, more than that, behaviors)  to address the issues that stand in the way of success. She is possessed of a rare emotional intelligence, a keen, observational mind, and an uncanny ability to deliver criticism smartly and in a way the recipient can digest and act on.  -Rob Densen, Founder & CEO Tiller
Alicia is extremely thoughtful, supportive and always action-oriented. She knows exactly how to push my thinking forward, and I truly believe her insights will continue to be instrumental in reaching a turning point during the most difficult period in my career as well as personal life. Every conversation with her leaves me more empowered than I was before. She is really much more than just a coach, a true mentor and role model in many ways. – Joo-Yong Chung, Director, MBK Partners
Alicia has the unique ability to harness the best out of each person. She makes you dig deep so you can better focus on what's really important. – Patrick Murphy, 32nd Under Secretary and Chief Management Officer, US Army